Cebu Doctors' University is a medical university located in Mandaue City, Cebu, Philippines. Founded in 1975 and as of 2005, it has grown to outwit other schools in the number of students who passed the board exams. After a rich development into a multi-college campus, it was granted university status in 2004. It boasts one of the best health-oriented education curricula offering medical and paramedical courses.
Its College of Arts and Sciences, in addition, offers AB Psychology, AB English, Associate in Computer Science and Bachelor of Science in Computer Science, to further incorporate the breadth of world views and to improve its international prospects. The current campus is located near Osmeña Boulevard, Ma. Cristina M. Zosa, and Don Jose Avila Streets.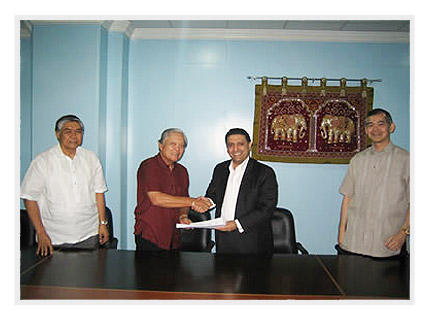 THE CEBU DOCTORS UNIVERSITY COLLEGE OF MEDICINE
The College of Medicine is the main educational hub of the university established in the early days of the Cebu Doctor's University's history. In its pioneer intake, its rigorous admission criteria accepted a mere eighty candidates. Its vision is to mould individuals into complete physicians who provide optimum care to the patient, family, and community, and who continue to grow holistically through evidence-based scientific investigations while maintaining moral and ethical standards. CDU – CM's Problem Based Learning (PBL) curriculum is the latest in the curriculum revisions and is designed to equip students to become analytical and well-rounded doctors that are effective in the real medical world.

COLLEGE FACILITIES
The College is equipped with the latest laboratories and comfortable lecture and seminar halls. In addition, each of the classrooms are well maintained with visual aids and equipment to aid the over all effectiveness of the lessons. The College also maintains an excellent library which gives student access to the latest reputable medical journals and publications.

STUDENT SERVICES
The Cebu Doctors University has set up a competent Student Affairs, Publications, and Public Relations Office (SAPPRO) which takes charge of student services. It offers not only career counselling and academic guidance but also organises the institute's famous University week which is a week-long celebration with inter-college activities to promote bonding and a sense of belonging to the students.

AFFILIATIONS
The CDU-CM is closely affiliated with the Cebu Doctor's Hospital, the leading hospital in Cebu with the latest and comprehensive speciality departments ranging from Cardiology to Urology. It constantly upgrades its extensive facilities and equipment in line with its vision to become a modern medical center responsive to the total health needs of its clientele.




Show me another affiliate for Medical Programme!



I want to know more about HCMI's Medical Programme



I want to apply now!