The Southwestern University was founded as Southwestern Colleges in the summer of 1946 when the country was still reeling from the destruction of the Second World War.

Since its acquisition of the University status in 1959, it has come a long way and today boasts over 50 degree programs in the graduate and undergraduate levels, with an enrolment of more than 10 thousand. Improved and state of the art infrastructure and the continuous drive for improvement and accreditation of its programs, makes The Southwestern University a credible choice.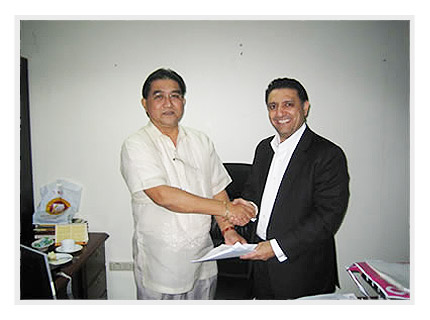 MATIAS H. AZNAR MEMORIAL COLLEGE OF MEDICINE (SWU-MHAMCM)
The MHAM College of Medicine was named in the memory of the University's founder, late Don Matias Hipolito Aznar II. Although rich in tradition and values, it boasts the most modern infrastructure and state of the art equipment alongside an extensive and comprehensive curriculum that prepares students to become successful medical professionals. It places a high importance on scientific and ethical values and while imbuing in students the need for a lifelong professional learning.
At the SWU-MHAMCM, education is moving forward, attuned to the best practices of the medical profession and at par with the best medical schools in the country and in the Asian region.

At present, the Medical Information Technology Center is being developed to serve as the repository of researches, instructional materials, modules and other materials.


STUDENT SERVICES
Student Affairs Office (SAO) has been set up as an umbrella services group that takes care of the students in various areas with the following services:
Schedule orientation and admission related counselling
Aid in assistance and scholarships
Coordinate with extra curricular student organisation clubs and societies management
Hone student leadership for delegates and school representatives

The university also boasts a comprehensive library with professional library services to manage the literature and extensive media and resources available to students.
The Guidance Centre provides the role of counselling and mentoring allowing students to achieve their full potential.
Other services and facilities include the following: Aznar Coliseum, Ballpark, Audio-visual rooms, laboratories, pathology museum and food court.

ACCOMMODATION
Separate accommodations for male and female students are available. HCMI will assist you with these arrangements for your convenience in studying abroad.
In addition, there are also canteens and eateries to cater to students' appetites.

RECOGNTION AND ACCREDITATION
The first medical school outside Manila
Awarded by the Cebu City Government as Outstanding Educational Institution in Community Service
Recipient of the Rotary Club of Makati and San Miguel Corporation's National Award for Community Service
A university with enriched curricula that meet the demands of business and industry
A research-oriented institution with advanced state-of-the-art equipment and educational facilities
With Philippine Accrediting Association of Schools, Colleges and Universities (PAASCU) Accredited Colleges
The Alma Mater of countless board placers

Show me another affiliate for Medical Programme!



I want to know more about HCMI's Medical Programme



I want to apply now!